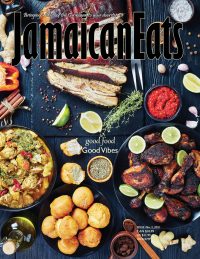 Issue # 2, 2021
US $13.99/Can. & Carib. $12.99 / UK $12.99
Dreamy, Creamy Breadfruit!
Plus Olympic wrap up with amazing recipes and news about Trelawny, the Jamaican parish of winning Olympians, notable Jamaicans, natural beauty and great food. AND flip the pages for Caribbean-inspired Charcuterie Boards; Scallion and Condensed Milk like you've never known it.
+ Hear Us Out!
Sugar may well have a place in Rice an' Peas. (There…we said it.) We tell you why a likkle bit of sweet in di rice pot may tickle your palate. 
In this issue, you'll also meet Chef Darian Bryan the hot Jamaican chef who is putting the sizzle in Western New York and exciting the palate of some of Buffalo Bills (football) players.
Canadian (only) can also pay in CAD$ via interac money transfer…CAD$39.99 for a subscription or CAD$14 for a single copy to email caribbeanfoodguide@gmail.com. AND remember to send your mailing address to caribbeanfoodguide@gmail.com.

U S

$

13.99

Canada Caribe

$

12.99

U K And Other Countries

$

12.99
Additional Information
| | |
| --- | --- |
| Current Year | Canada & Caribe, U.K. and other countries, U.S., U.S./Canada/Caribbean |