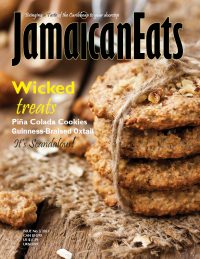 Issue #3, 2021
US $13.99/Can. & Carib. $12.99 / UK $12.99
Do you like Pina Coladas?
This edition of JamaicanEats is brimming with Wicked Treats

that will have you wanting to lick the pages as you flip through. We reckoned that after two years of lockdowns and vaccines you deserve to feast. So, we're delivering scrumptious eats…from Noel Cunningham's Guinness-Braised Oxtail to Andre Peynado's Deep Fried Oreo; Sian Rose's crescent pastry brimming with sorrel jam, plus sweet potato cookies drizzled with spiced buttered rum glaze.
AND…as usual 
We have stories to tell. Tales from the Manchester mountainside. Stories about how food entrepreneurs Opal Rowe and Donna Gardner are spreading the love of Jamaican Patty and Bammy. Find out how home baker Donna Miller 'wheel and come again' after losing her job due to COVID. And meet Christopher Sinclair McCalla who says he was born a foodie. Being barred from the kitchen by his mother couldn't stop the 27-year-old from making food his way.
Canadian (only) subscribers, can also pay in CAD$ via interac money transfer…CAD$39.99 for a subscription or CAD$14 for a single copy to email caribbeanfoodguide@gmail.com. AND remember to send your mailing address to caribbeanfoodguide@gmail.com.

U S

$

13.99

Canada Caribe

$

12.99

U K And Other Countries

$

12.99
Additional Information
| | |
| --- | --- |
| Current Year | Canada & Caribe, U.K. and other countries, U.S., U.S./Canada/Caribbean |