Jamaican-Style Thank You Postcards
'cause Howdy an' tenky bruk no square (Good manners never hurt anybody.)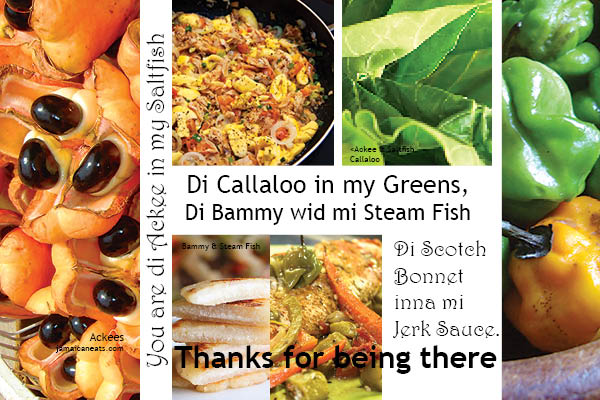 Nothing quite says Thank You like a handwritten note that is delivered in person or sent via mail. AND No One says Thank You like a Jamaican. These handy postcards have the Irie Vibe of the island…you can almost feel the Reggae Pulse in the images and the lingo. Easy, quick and convenient, you can say Thank You to the Jamaican beat and Put a Smile on the Face of recipients.
The postcards provide 10 Great Ways to express your gratitude – Jamaican-style – to Anyone, Anywhere and Any Time of The Year!
CLICK HERE TO BUY YOUR CARDS
NOTE: Shipping starts mid-March
You're the Ackee in my Saltfish; Thank Yuh from di Battam ah mi 'eart!; Rahtid! Mi Figet Fi Tell Yu T'anks; Mi Skin Ketch Fiyah When Mi Get di T'ing'; Mek mi stop Speaky Spokey; Di Gif' Sweet Mi Cyann Done; Dat was Cool. Thanks for di Great Job; Mi Love Yuh Like Cook Food; Thank You: Yes, Yuh Same One; Kiss Mi Granny Neck Back: What a Surprise (translation provided for some)