Looking for Recipes?
CLICK HERE for Tons of Recipes @ Passport to Caribbean Food, our sister website. And scroll down to check out the few recipes below

---
Jerk Central's Double-Cut Jerk Lamb Chops With Rum Mint Sauce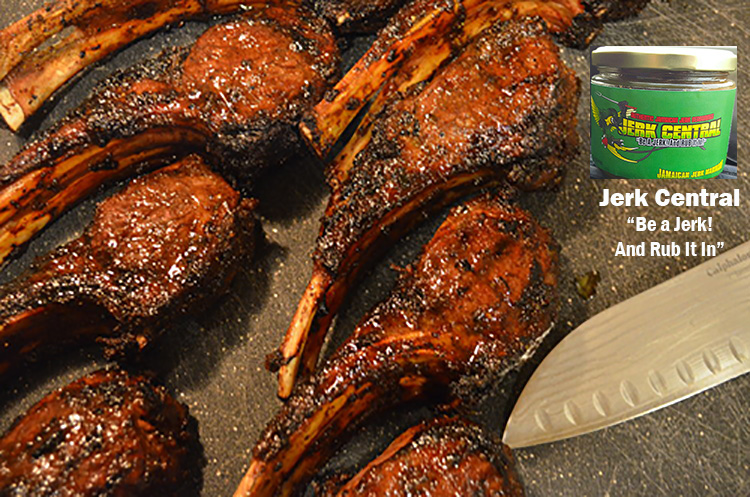 Check out Jerk Central @ Passport to Caribbean Food. 
8 tbsp red wine vinegar

8 tbsp Jamaican rum

4 tbsp mint jelly (more if you want more "minty" flavor)

Jerk Central Jamaican Jerk Marinade

Jerk Central Jamaican Jerk Dry Rub

1 or two rack(s) of lamb (cut every two bones)




Since we were grilling these (and, yes, they can definitely be done in the oven) we used more marinade and dry rub because some of the s

easonings will stick to the grill during the cooking.
Sprinkle approximately two teaspoons per pound of Jerk Central's Jerk Dry Rub on all sides of the meat and RUB it in!

Next, apply approximately 1.5 teaspoons per pound of Jerk Central's Jerk Marinade on all sides of the meat and RUB it in! Place the chops in a large Ziplock bag or resealable container and let the meat marinate for a few hours or overnight.
 For the Jerk Rum Mint Sauce:
Add the red wine vinegar, jerk marinade, jerk rub, rum and mint jelly to a sauce pan and heat on high. Use a wooden spoon to stir and break up the mint jelly as it melts. It should be well incorporated by the time the liquid starts to boil.

Once the mix starts to boil, remove it from heat and keep stirring. Use a spoon and taste a cooled sample. It should be sweet, tangy and have a well-flavoured "kick" to it.

Set up your grill for two-zone grilling. (Fill your charcoal chimney with coals and once lit, scatter them inside the grill in an area approximately 1/3 to 1/2 of the grilling area.) That will be your "hot zone". The other portion of the grill that is empty will be the "cool zone".

If you will be baking your chops, first add a few tablespoons of oil to a pan and sear the chops on all sides for about a minute, or so, per side. Then put the chops in a baking tray and bake at 375 degrees F for about 35 minutes or to desired "doneness".

Back to the grill: Place your chops on the hot zone and sear for a nice crust. Don't walk away from the grill, this process should only take about a minute per side.

Once all sides of your chops are nice and crusty-brown, transfer each chop to the cool zone. If you prefer your meat medium-well or well done, place your chops with the rib meat facing the coals. If you prefer your meat medium-rare, Place the meat with the rib (bone) end facing the coals.

Apply a nice glaze of the sauce to each chop. Close the lid of your grill and let the meat cook for 15 minutes. Make sure to watch the temperature of your grill and adjust the vents if need be to keep the temperature between 375 – 400 degrees F.

After 15 minutes, turn the chops over and apply the sauce to the ribs again. Close the lid and leave the ribs for another 15 minutes. After 30 minutes of cooking, check the temperature with a meat thermometer for preferred doneness.

Once the ribs are done to your liking, drizzle a teaspoon of the mint sauce over each chop and serve with your favourite starch or vegetables.
---
3 tbsps. dry yeast
1 1/2 cups sugar
1 tbsp. salt
1 1/2 cups butter
2 cups milk
12 cups flour
Preparation
1. Dissolve the dry yeast in 3 cups of warm water, adding salt and sugar after the yeast is dissolved. Let stand for about 5 minutes until foamy.
2. Warm the 2 cups of milk with the butter. Do not boil. Add mixture to the yeast.
3. Slowly stir in the flour, one cup at a time until dough is formed and it leaves the sides of the bowl.
4. Lightly flour the table and knead for about 10 minutes until smooth. Let rest for 10 minutes.
5. Cut grapefruit-sized pieces of the dough and roll out to about 1/4 inch thickness.
6. Butter the entire circle with a pastry brush dipped in softened butter.
7. Fold in half and then in half again. Use fingers to make indentations in the dough.
8. Let rise until doubled. Bake at 350 degrees F until golden.
9. Brush the tops with butter as soon as they come out of the oven.
Makes 24 coco breads.
Recipe and Photo by Jennifer Mullings
---
Green Banana and Saltfish Salad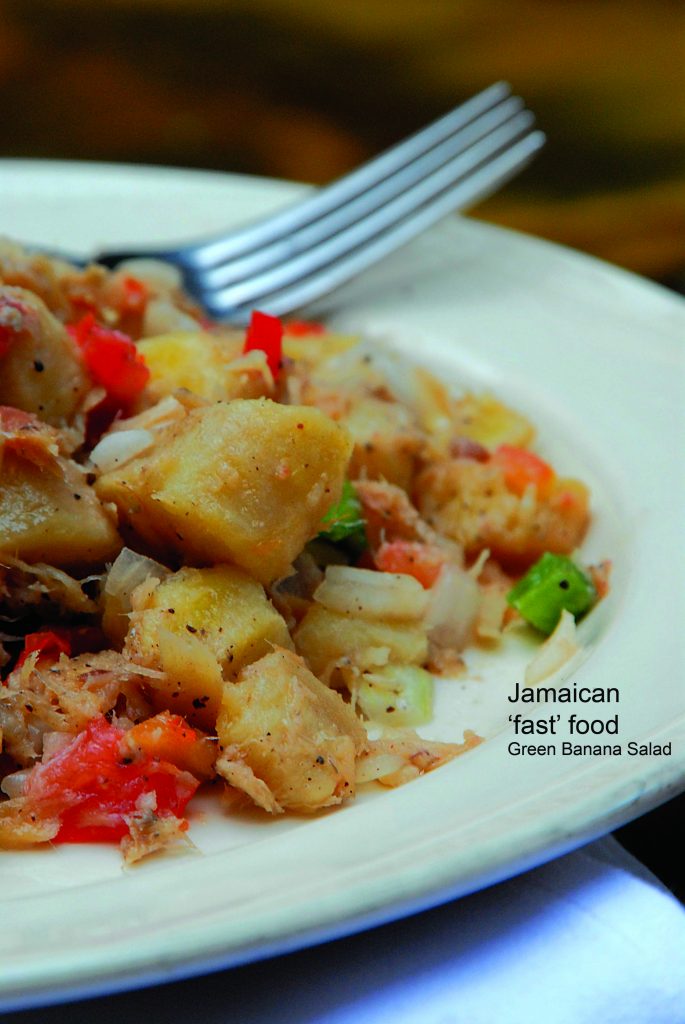 Green Banana and Saltfish Salad
2 tablespoons cane vinegar
8 small green bananas (slit the skin of the banana)

5 ounces/125 g. prepared saltfish

1 onion, sliced in rings

1 spring onion, chopped

2 ½ ounces/70 g. green chives, sliced
DRESSING
1 garlic clove, crushed
1 Scotch bonnet pepper, de-seeded and finely chopped
1 tablespoon Dijon mustard
1 teaspoon sugar
Juice from one lime
4 ½ tablespoons olive oil
Ripe avocado, peeled, stoned and chopped into one-inch pieces
Freshly ground black pepper
1. Drop one tablespoon of vinegar into a large pot of salted water (this prevents the bananas from turning black). When the water boils, add the bananas and cook for 20 minutes, or until tender.
2. Meanwhile prepare the saltfish (see below.)
3. Drain the bananas and leave until dry enough to handle. Peel the skin from the banana and cut into cubes.
4. Put fish, banana, onion, spring onion and olives in a bowl. Whisk together the ingredients for the dressing and then toss with the saltfish and banana mixture.
5. Sprinkle with black pepper to taste, chill for at least an hour before serving so that flavours can blend and develop.
Add avocado.
PREPARATION OF SALT FISH
Use dried salt fish (usually cod) or smoked red herring. Rinse the dried saltfish under cold tap water then place in a pan full of water and bring to boil. Drain and cool, remove skin (if any). Using two forks or your fingers, flake into small pieces, making sure to remove any bones.
Serves 10
————————————————————
Breadfruit & Breadfruit Flour Recipes
If you're not living in the tropics, look for breadfruit in Caribbean, Asian stores and Latin stores.
LEARN MORE about breadfruit and breadfruit flour.

---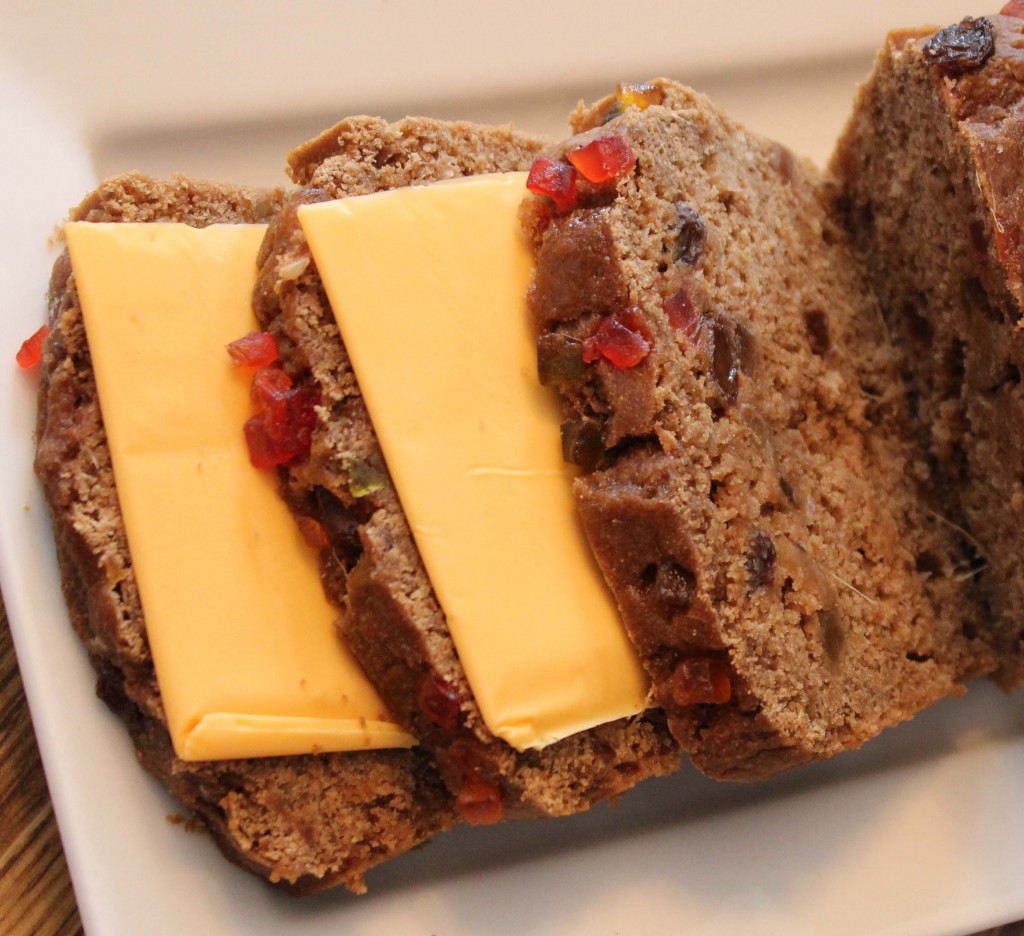 Breadfruit & Coconut Ginger Spiced Bun
Prep time: 20 mins Cook time:45 mins Total time: 1 hour 5 mins Serves: 8-10

2 tbsps. melted margarine
2 cups water
1 teaspoon vanilla
2 tsps. browning
2 medium eggs (beaten)
1 1/2 cups dark sugar
2 cups breadfruit flour
2 cups regular flour
1 tsp. nutmeg
1/4 tsp. salt
1 tsp. cinnamon powder
1 tbsp. baking powder
1 tbsp. mixed spice
2 tsps. grated ginger
1/4 cup grated coconut
1/4 lb. mixed fruit, chopped
1/4 lb. raisins, soaked
Preheat oven 350 degrees F.
Soak raisins in water and set aside.
In a small sauce pot, melt margarine and allow to cool.
Mix together in a medium mixing bowl all dry ingredients.
In a large mixing bowl, beat eggs until foamy, add vanilla, and water. Stir in the sugar and mix until all the granules dissolve.
Gradually add liquids to dry ingredients. Mix until smooth.
Fold in chopped mixed fruits, raisins, grated coconut and grated ginger.
Pour batter into a greased loaf pan, 12"x4"x3", lined with parchment paper.
Bake in preheated oven for 30-45 minutes or until a skewer inserted comes out clean.
Glaze and leave to cool before slicing.
Glaze
1. Combine 2 tablespoons honey with melted butter and bring to a boil.
2. Remove from flame and use a pastry brush to apply over the surface of the bun.
NOTE: To make it gluten-free, replace the regular flour with almond flour.
Get more recipes, tips, tricks and tasty treats made with Breadfruit Flour in the March 2016 issue of JamaicanEats magazine
---
Breadfruit Gingersnap Cookies (Recipe Below)

Ginger Snap Cookies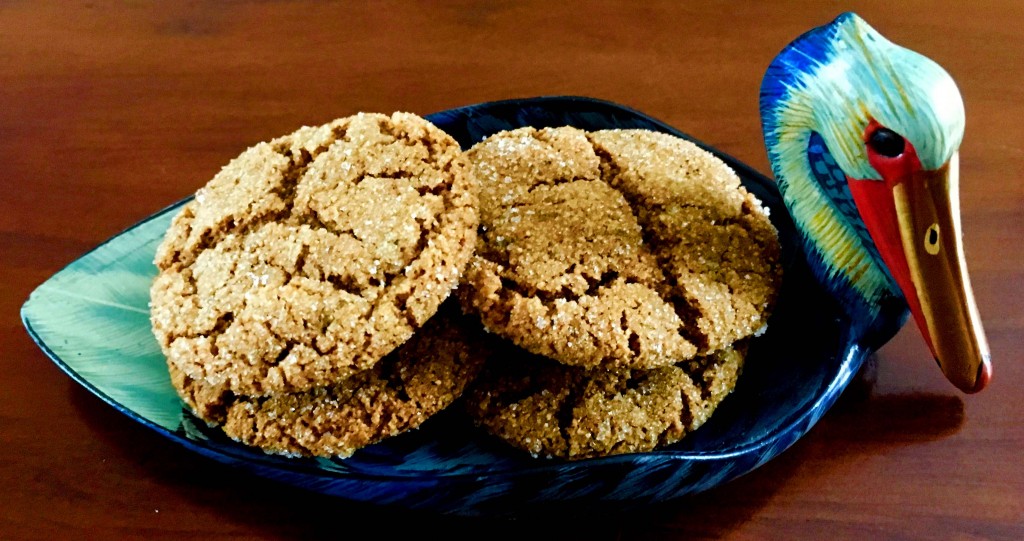 1 3/4 cups toasted breadfruit flour
2 1/2 teaspoons ground ginger
2 teaspoons baking soda
2 teaspoons ground cinnamon
1 teaspoon ground cloves
3/4 teaspoon salt
3/4 cup chopped crystallized ginger
1 cup (packed) dark brown sugar
3/4 cup unsalted butter, room temperature
1 large egg
1/4 cup unsulphured molasses
Sugar
Combine first 6 ingredients in medium bowl; whisk to blend. Mix in crystallized ginger. Using electric mixer, beat brown sugar and butter in large bowl until fluffy. Add egg and molasses and beat until blended. Add flour mixture and mix just until blended. Cover and refrigerate 1 hour.
Preheat oven to 350°F. Lightly butter 2 baking sheets. Spoon sugar in thick layer onto small plate. Using wet hands, form dough into 1 1/4-inch balls; roll in sugar to coat completely. Place balls on prepared sheets, spacing 2 inches apart.
Bake cookies until cracked on top but still soft to touch, about 12 minutes. Cool on sheets 1 minute. Carefully transfer to racks and cool.
Makes about 30 cookies.
Notes:
Can be made 5 days ahead.
Store airtight at room temperature.
Recipe by Monica Fox
Find out more about the Trees That Feed Foundation (TTFF), the organisation behind the breadfruit flour industry in Jamaican and Haiti. Also get some of their recipes. www.treesthatfeed.org

---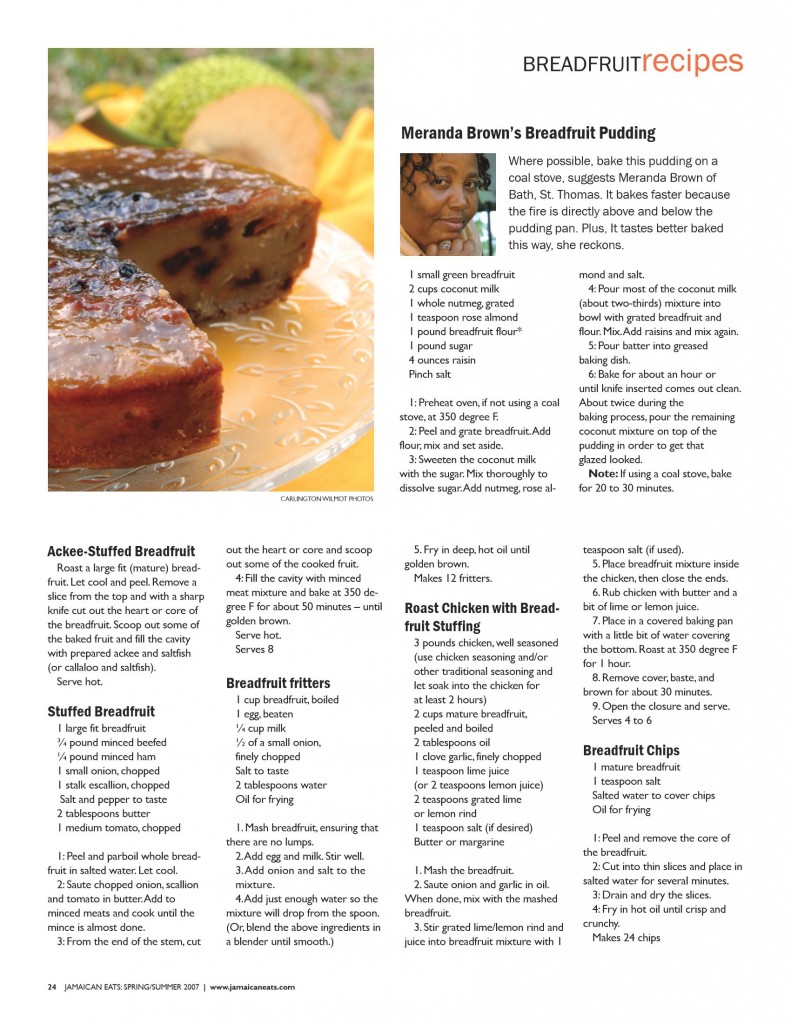 _________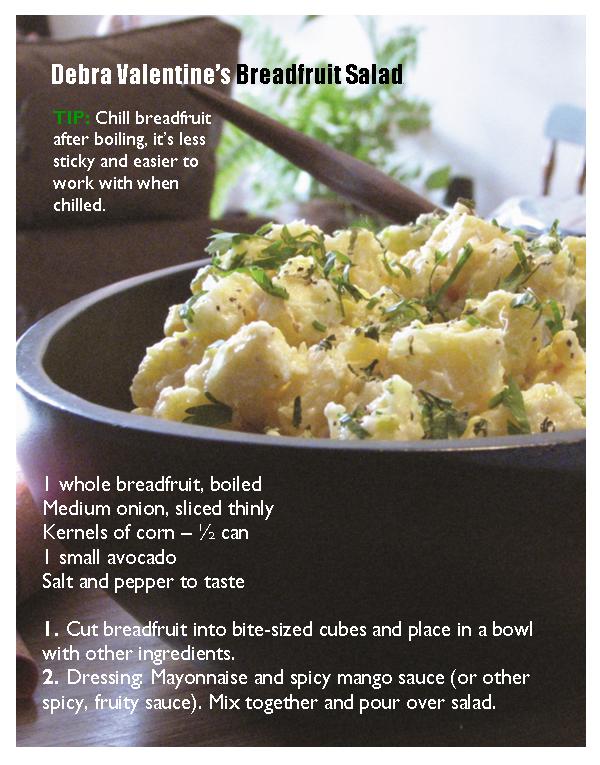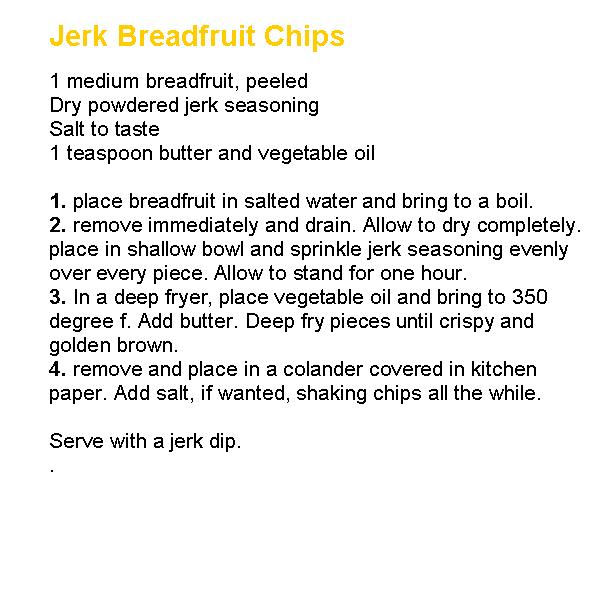 ______________________________________________________
Plantain Tart; Trinidad Doubles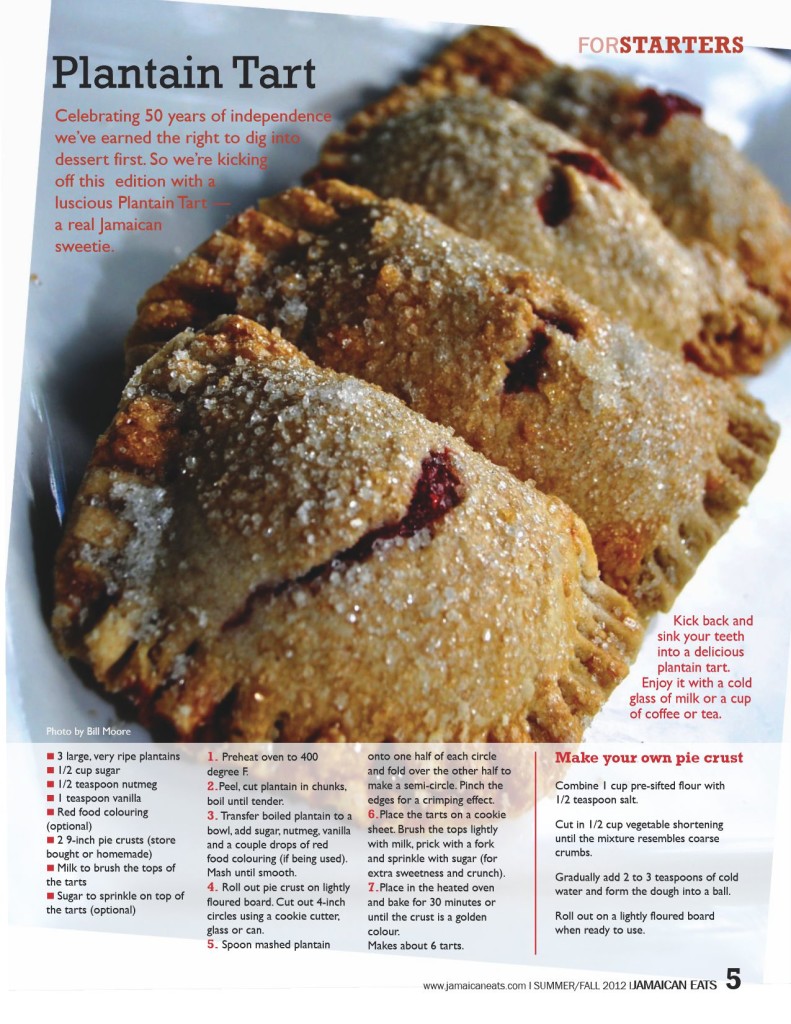 ———————————–