CLICK HERE to buy the Digital Edition directly from JamaicanEats:
You can buy single copies of the 10th Anniversary Issue, March 2016 or November 2015 magazine.
And/Or you can Subscribe for 3 editions: 10th Anniversary Issue; Nov. 2016; Mar. 2017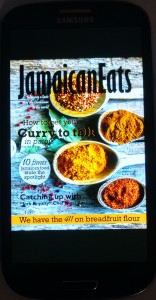 OR, get it via the JAMAICANEATS magazine APP OR through magzter.com
Download the JamaicanEats app for Android from the Google play store: https://play.google.com/store/apps/details?id=com.magzter.jamaicaneatsmagazine
Or Download the JamaicanEats magazine app for Apple here: https://itunes.apple.com/in/app/jamaicaneats-magazine/id977539571?mt=8
OR download digital versions from the Magzter digital newsstand:
http://www.magzter.com/CA/Jamaican-Eats-magazine/JamaicanEats-magazine/Cooking/
Look out for the NEW November 2015 edition, and check out the 10 back issues that are now available.