Olympic Games 'Fast Food' Secrets Revealed!!!
10 Reasons Why Jamacans Run So Fast Cookbook tells all
Click Here to Order Your Copy.
I just received my cookbook from UPS. The recipes look delicious and
creative. I am going to take my cookbook to bed tonight so that I can
read about the chefs and the history of the food. I can't wait to try some
of the recipes. I will order more in the fall to give as Christmas presents.
– Reader Debbie
P.S. I'm 110 percent pleased.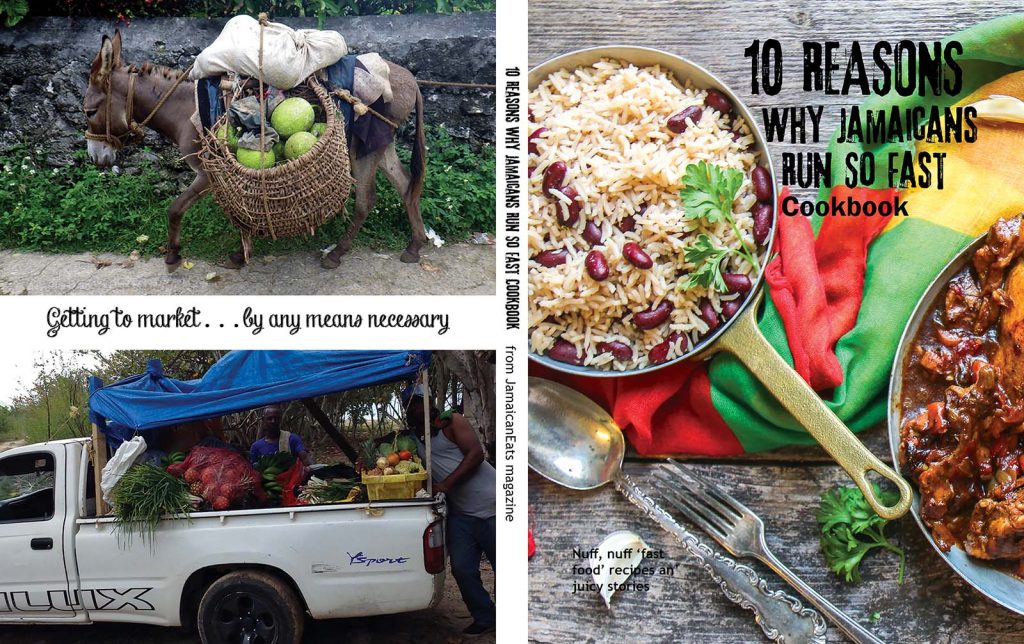 Grace Cameron, Editor and Publisher of the popular JamaicanEats
Magazine, has gone and done it again. Cameron has captured the true
essence of her Jamaican heritage in her cookbook, 10 Reasons Why
Jamaicans Run So Fast.
An alluring cookbook that every chef school, master chef or home chef
must own! With an easy-to-read style and colourful food display it is
ready for anyone to hold comfortably in hand and prepare a tasty
Jamaican recipe at the same time.
– Reader and book critic Catherine
*****
Just got home after a week away for work and just pulled this out from
my Mail Box. Flipped through it and 👍!
– UrbansKitchen on Instagram
Also Available On Kindle @ B072C5FFVL
Click to order your Keepsake cookbook

Why Jamaican sprinters own the track
Is it the ackee and saltfish with roast breadfruit?

The fried dumpling, cornmeal porridge or chocolate tea?

Or, come to think of it, could it be that Jamaicans run so fast




because the children know that they have to outrun the duppies




(ghosts) hiding under the cotton trees?
In the sprint relay final at the 2016 Rio Olympics, the first 2 men to
cross the finish line were born in Jamaica – Usain Bolt and the
Jamaican-Japanese who ran the anchor leg for Japan, Antonio
Cambridge. At the medal ceremony for the relay, of the 12 men on the
podium, 8 were either born in Jamaica or of Jamaican parentage.
So no wonder why people keep asking why Jamaicans run so fast.
Well, JamaicanEats magazine's cookbook, 10 Reasons Why
Jamaicans Run So Fast, is dishing out the "secrets" of Jamaican speed.
This keepsake book has bite-sized stories and 'fast food' recipes like the
power-packed breakfast of dumpling and braised liver on page 54,
to traditional standbys like brown stew chicken on page 100 and
a Patois Pizza Party (breadfruit flour-crusted ackee and saltfish pizza,
for example) starting on page 132.
Oh yeah, Good Food. Good Vibes.
Click on the link below to get your hands on this cookbook and sink your
teeth into the delicious recipes and juicy stories.
ORDER YOUR COPY TODAY!
Readers in Canada, U.S., Caribbean: U.S.$35; U.K. & international U.S.$40
DID YOU KNOW?
Jamaica is the first and only country to have all 100m men's sprint titles for
all ages and levels all at the same time.
---
NEW! 10 Reasons Why Jamaicans Run So Fast Hoodies & T-Shirts. CLICK HERE to check them out!