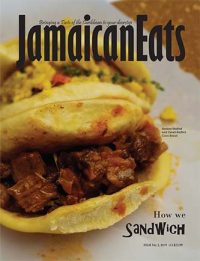 Issue # 2, 2019
US $10.99/Can. & Carib. $9.99 / UK $10.99
Step aside Popeye's. Fly away Chick Fil A. In Jamaica, this is HOW WE SANDWICH!
Sorry to ruffle feathers, but Chef Noel Cunningham's Chicken Sandwich leads our spread on Sandwiches worth fighting for.
Plus, where are they now? It's been 12 years since we featured the Sutherlands, a Jamaican family living in the United Arab Emirates. We recently caught up with Bonnie, husband Martin and their 3 children.
And Meet a JamaicanEats Reader…actually 3– Dr. Eryka Simmons, her mother Elaine and her aunt Ruth.
As usual, there's plenty to feast on, from an old-fashioned cow foot soup, to comfort food to warm your soul and vegan delights.
U S

$

10.99

Canada Caribe

$

9.99

U K And Other Countries

$

10.99
Additional Information
| | |
| --- | --- |
| Current Year | Canada & Caribe, U.K. and other countries, U.S., U.S./Canada/Caribbean |