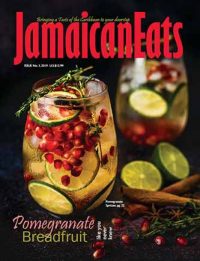 Issue # 3, 2019
US $13.99/Can. & Carib. $12.99 / UK $12.99
You're Welcome! We're saying that from now 'cause you'll be tempted to lick the pages when you get a whiff of what we've cooked up using a couple of our humble Jamaican products.
Breadfruit Vodka! Yep. Well…we didn't cook this up, American chef Todd Manley did. He loved breadfruit so much, he turned it into vodka. True story. We've got this and other breadfruit tales…and recipes.
Then, one of our taste testers was blown away by a 'surprise' ingredient…Pomegranate. She never dreamt that such deliciousness could be squeezed from the same fruit that kids in Jamaica used to 'stone' each other with.
And, you'll want to meet not 1, but 3 of our longtime JamaicanEats readers and Guyanese chef  Eshwar Sarwan who says his family poor but ingenious in using what they had to make a good meal.
As we play catch up, this edition (issue 3, 2019 is the new edition. Distribution begins later in April. Issues 1 and 2, 2020 will be ready for distribution late summer.
U S

$

13.99

Canada Caribe

$

12.99

U K And Other Countries

$

12.99
Additional Information
| | |
| --- | --- |
| Current Year | Canada & Caribe, U.K. and other countries, U.S., U.S./Canada/Caribbean |