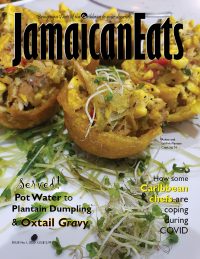 Issue # 1, 2020
US $13.99/Can. & Carib. $12.99 / UK $12.99
Pssst.
You know how you're always asking restaurants and takeouts for oxtail gravy over your rice and peas (when you've bought…say…curry chicken)? Donna Gardner, a Jamaican cook and event planner, explains the tantalizing and mouthwatering appeal of oxtail gravy — and it's not your fault.
Plus, if you've never had 'pot water,' you may want to drink up. Ol' time folks used to do it, and there's a good reason why.
And enjoy delicious recipes…from plantain and roasted corn dumplings; roasted pumpkin and greens, Jamaican-style; a 'wicked' stew goat recipe; along with heartwarming stories like the women of Manchester who are planting backyard gardens to dig themselves out of poverty. And read how some of our favourite chefs are coping during the time of COVID. Pull up a chair, because there's plenty more to feast on. 
U S

$

13.99

Canada Caribe

$

12.99

U K And Other Countries

$

12.99
Additional Information
| | |
| --- | --- |
| Current Year | Canada & Caribe, U.K. and other countries, U.S., U.S./Canada/Caribbean |