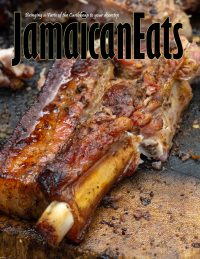 Issue #1, 2022
US $13.99/Can. & Carib. $12.99 / UK $12.99
A Party in the Pages for Jamaica 60
In this edition of JamaicanEats we're celebrating Jamaica 60 and the pages are brimming with Good Food. Good Vibes.
AND…as usual we have nuff stories to tell.
Canadian (only) subscribers, can also pay in CAD$ via interac money transfer…CAD$39.99 for a subscription or CAD$14 for a single copy to email caribbeanfoodguide@gmail.com. AND remember to send your mailing address to caribbeanfoodguide@gmail.com.

U S

$

13.99

Canada Caribe

$

12.99

U K And Other Countries

$

12.99
Additional Information
| | |
| --- | --- |
| Current Year | Canada & Caribe, U.K. and other countries, U.S., U.S./Canada/Caribbean |