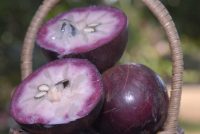 Issue # 1, 2021
US $11.99/Can. & Carib. $10.99 / UK $10.99
New Issue. Sweet Moments.
Because every issue is a way to share luscious Jamaican flavours, great stories and sweet moments. No stress, no fuss. Just a whole lot of joy.
AND this issue, we're CELEBRATING 15 Years.
You'll dig stories like the 5-year-old farmer and 15 lessons from my 'country' father as well as tasty recipes.
(Canadian (only) subscribers, can also pay in CAD$ via interac money transfer…CAD$12 to email caribbeanfoodguide@gmail.com. AND remember to include your mailing address.)
U S

$

11.99

Canada Caribe

$

10.99

U K And Other Countries

$

10.99
Additional Information
| | |
| --- | --- |
| Current Year | Canada & Caribe, U.K. and other countries, U.S., U.S./Canada/Caribbean |